Samsung Galaxy Note 10 Price in India, Specification
Samsung Galaxy Note 10
Samsung galaxy note 10 released on pre-order sale on amazon's website. The new galaxy note price is 80,000 RS of starting. But saying the performance of Samsung galaxy not reliable as the US model.
The Samsung 10 launches its variants for pre-order sale 256GB and 512GB. the price of the Galaxy note 10 256 GB variant is 80,000 RS while 512 GB costs 90,000 RS. New galaxy note 10 series launces in 3 colors on amazon which is Aura(Black, Glow, White).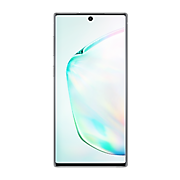 Samsung Galaxy Note 10
The Samsung Galaxy Note consists of 12 GB of ram which Samsung requires always to run its UI. Quad rear camera of 16MP + 12MP + 12MP and the 10MP of front camera.
Samsung Galaxy Note has a dynamic AMOLED Infinity O display resolution of 1440×3040(QHD+).
Note 10 has a good battery capacity of 4300mAh. and fast charging support of 25W.
Galaxy Note 10 comes with its built-in own chipset Exynos 9825 clocked at 2.7GHz. Upgraded Galaxy Note 10 has the latest Android Pie 9.0.
Galaxy Note 10 does not have an audio jack so rest in peace for that Galaxy Note 10.
Pre-order:
Reason for not to buy:
I am not a Samsung hater because I appreciate the flagship model of Samsung note 8 and note 9. but this piece is not reliable.
If you haven't read this please check this out: 
Samsung
As I informed you if Samsung decreases its price from the US models the reason is the Exynos and manufacturing unit. Exynos is made by Samsung which US govt doesn't allow to sell it in their market so they have to use a Snapdragon processor to sell their units in the US market and for other countries, they provide their Exynos technology. Exynos is also based on 7nm but if you compare with oneplus 7 pro with it Snapdragon is a lot faster.
In simple language, you can save 30,000 buying oneplus or any other brand you love.